Claim: Persecution carried out against Christians in Turkey
2016-06-10 08:53 BST
Posted in:
German politician of Turkish origin claims Christians are persecuted in Turkey
On 2 June 2016, the German daily newspaper der Tagesspiegel quoted the statement of Cem Ozdemir, a German politician of Turkish origin in the Bundestag, a constitutional and legislative body at the federal level in Germany.1 He said:
Today when one looks at the region, one sees that Christians are being persecuted again – in Iraq, in Syria, and in Turkey as well.2
However, the conditions of non-Muslim citizens living in Turkey have been remarkably changed within the last decade. Here are some improvements:
2007: Neglected for decades, the Akdamar Church was renovated between 2005-2007 under the leadership of the Ministry of Culture and Tourism. Archbishop Aram Atesyan extended his thanks to the government officials for making a 200 year dream come true.
2011: Following the government regulation, the foundational properties belonging to the non-Muslim communities are returned.
2012: Istanbul Metropolitan Municipality approved the request of land to build a new church by the Syriac Orhtodox Church.
2012: A curriculum and course book about Christianity for Christian students attending Christian schools is prepared by officials.
2013: Then-Prime Minister Recep Tayyip Erdogan expressed his condolences to Armenians a day before the anniversary of the events of 1915. The message of condolence was issued in nine languages including Armenian which made this unique in the history of Turkey.
2014: The land deeds of the Mor Gabriel Monastery, a sacred site for Syrian Christians, were handed over to Kuyakos Ergun, the Chairman of Mor Gabriel Foundation. Ergun said, "This remarkable decision is amazing and has made us all extremely happy. We thank Prime Minister Erdogan who played a major role in the process".
2015: After 40 years, an elementary school for the Greek minority on the island of Gokceada began to enroll students. Yorgo Zarbozan, a local, said "All our ancestors were here, there is 4000 years of our history on this island. I attended this school until 6th grade. Today is the happiest day for us".
2015: Camp Armen, one of the most important sites in the memories of the Armenian society, was returned to the Gedikpasa Armenian Protestant Church Foundation.
2016: Theophany was celebrated in the city of Izmir after 94 years with the participation of Greek Orthodox Community, Greek Consul General, Catholic Arcbishop and locals.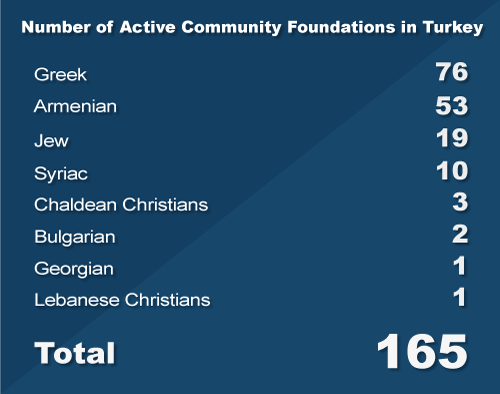 2. Wenn man heute in die Region blickt, sieht man, dass Christen wieder verfolgt werden - im Irak, in Syrien, auch in der Türkei.