Claim: US-based Turkish academic summoned by Turkish consulate for signing peace petition
2017-06-30 09:48 BST
Posted in:
Turkish academic at University of Michigan Fatma Muge Gocek claims Turkish consulate summoned her for signing peace petition
A Turkish academic working at the University of Michigan, Fatma Muge Gocek, claimed on her Facebook account on 25 June 2017 that she was summoned to the Turkish consulate in Chicago to pick up "criminal investigation paperwork." She wrote that her alleged crime was "signing a peace petition that condemned the Turkish state's use of violence against its own Kurdish citizens." In her post, she invited all academics receiving similar summons in the US to join forces. Her post was widely shared and commented on by many people.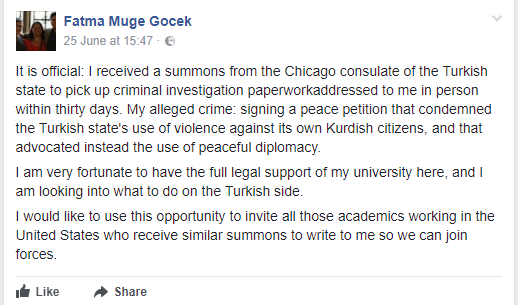 Denying Gocek's claim, Umut Acar, the Consul General of Turkey in Chicago,  explained in a tweet that the consulate sent a notice about an estate belonging to Muge Gocek which had nothing to do with a criminal investigation. Fact Checking Turkey contacted Mr Acar about the details of the issue. He explained the procedure and the case as follows:
"According to the Notification Law, notices are sent to citizens living abroad via its foreign representative offices. The institution within the country sends the notice to the foreign mission. The representative office sends a notice about the issuer institution and its content. Starting from the day the person receives the notice, if it is not picked up from the consulate, the delivery process of the notice is legally completed.
"Following this procedure, a notice issued by Istanbul Metropolitan Municipality General Directorate of Expropriation and delivered by Turkish Interior Ministry was sent to our citizen Fatma Muge Gocek who lives in the area of our consulate general on 17 June 2017. Her social media post claimed that she received a notice about "a criminal investigation", that her alleged crime was signing a peace petition and that she was very pleased that University of Michigan, where she currently works, offers her full legal support. None of her claims, however, were present in the notice sent to her. We provided our citizen Gocek with more information when she called the Consulate. In short, the notice is about a real estate of which she is also a shareholder."
After Muge Gocek was informed about the situation, she wrote on her Facebook account that her earlier post was a "false alarm." She wrote only in her second post that she had no evidence to show that the notice was about a petition she signed. She said: "I assumed it [the notice] had to do with the petition [I signed]."